Dirigé par le jeune et talentueux clarinettiste allemand Daniel Glatzel, l'ANDROMEDA MEGA EXPRESS ORCHESTRA, ce bigband berlinois de vingt pièces trouve avant tout sa motivation dans une jubilatoire volonté de ne pas se laisser enfermer par la taxidermie des étiquettes musicales.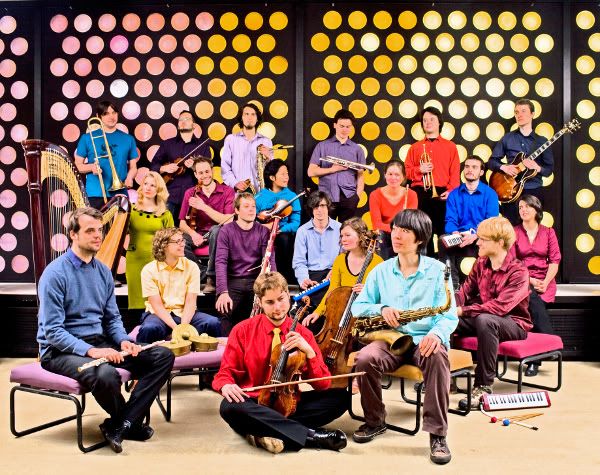 C'est dans la capitale allemande que le compositeur, arrangeur, saxophoniste et clarinettiste Daniel Glatzel a débusqué ses 20 musiciens, originaires d'Allemagne, de France, de Suisse, du Canada, de Norvège, du Japon, de Thaïlande, de Tchétchénie et de Corée du Sud. A l'image des horizons artistiques et culturels divers et variés de ses compagnons, Glatzel s'inspire du jazz, du free-jazz, de la musique minimale, de BO de films, du romantisme, du néo-classique, de Béla Bartók et de Fanck Zappa pour créer ses compositions uniques. Les prestations scéniques endiablées du bigband ont tenu en haleine les amateurs de jazz comme de rock. L'AMEO s'est notamment produit avec THE NOTWIST et a participé à leur dernier album.
L'éclectisme musical de Daniel Glatzel est à l'image de ses sources d'inspiration : jeux informatiques, deuxième école viennoise, dessins animés, polyphonies de la Renaissance, mais aussi BO publicitaires ou musiques d'ambiance dans les hôtels de luxe. Armé d'un solide bagage musicologique, il marie avec bonheur les genres et les styles, et a baptisé le premier album de l'orchestre d'un « Take Off! » de circonstance !
Ceux qui se laissent entraîner par l'AMEO ont intérêt à bien accrocher leur ceinture. En effet, les musiciens traversent les continents et les cultures à 100 à l'heure, tout en voyageant dans le temps, ill change de rythme et d'atmosphère à la vitesse de la lumière et leurs mélodies enlevées flirtent avec des escapades cacophoniques.
Au final, le mieux est de ne rien attendre de particulier de l'AMEO mais de s'abandonner et de partager le plaisir communicatif des musiciens. Ceux-ci bousculent allègrement les règles, mettant la musique en pièces pour mieux en recoller les morceaux dans le style inimitable de l'ANDROMEDA MEGA EXPRESS ORCHESTRA.
Liens : WEBSITE / MYSPACE / FACEBOOK || Labels : ALIEN TRANSISTOR
Point presse / ARTE / CITIZEN JAZZ / ENJOY JAZZ / CRISSCROSS JAZZ
Point écoute & vidéos :
from our live-shows by andromedameo

Tous les concerts du ANDROMEDA MEGA EXPRESS ORCHESTRA !!

No shows in the archive yet.